I am not a facebook addict and only kept an account so that old friends could look me up and find me. Other people I can just call. I was alerted once that people's names and personal information were showing up in some database, I forget what it was now...so I looked myself up and found not only information about myself but family members, my street, my house! For commercial usage I can understand facebook. Not for personal usage though. I don't know why it took me so long to get out and don't understand why everyone doesn't get out. Exploitation is the name of the game. It's always a problem when we rely on one source and allow it to grow to be a monster! There are no exceptions!
By
Alex Wawro
,
PCWorld
Mar 29, 2011

Our social networks say a lot about us. When you register with a Website like
Facebook
, you voluntarily give up personal information like your name, photo, and phone number in exchange for the privilege of access to a network that makes it easy to keep in touch with friends and family. Facebook then makes money aggregating that information for sale to advertisers looking to target groups of potential customers with specific ages and interests. It's an information economy, and to be clear, Facebook cleaves to a
privacy policy
that only permits the sharing of "non-personally identifiable attributes" with advertisers.
The problem is that it's up to the folks at Facebook to decide what connotes "non-personally identifiable attributes." We've written
at length
about the
problems
with Facebook's protean privacy policies, and the company has done an admirable job of addressing user privacy concerns by offering users the option to disable troublesome features like "Instant Personalization," which allows third-party websites like Huffington Post and Pandora to access your Facebook data in order to customize their services with ads you might click on.
Of course you never retain complete control over the data you post; Facebook reserves the right to use your name and image to promote any product or service you endorse, which means that your Facebook friends are likely already seeing ads for the latest summer blockbuster with
your face
attached. Worse, if you use the GPS function on your phone to check in at the local REI outlet and REI has paid for a Facebook Sponsored Story ad campaign, your name and the details of your check-in may appear without your knowledge as an ad promoting the REI brand to your friends and family.
"Facebook has a history of privacy problems," writes
Ben Edelman
, an assistant professor at the Harvard Business School who specializes in online business. "New features introduced without a full assessment of privacy consequences; settings changes that reduce users' privacy unexpectedly; transmission and sharing of data contrary to Facebook's promises to users. In this context, users rightly look for alternatives."
Diaspora
is open-source software that duplicates the functions of a social network like Facebook while ensuring that users retain full control and ownership of everything they share on the network; instead of first uploading photos to Facebook and then choosing who gets to see them, Diaspora users can simply share photos directly with each other without having to go through a corporate middleman or agree to a company privacy policy.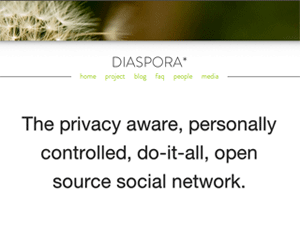 Diaspora is now in alpha testing, and the code is free.
There is no central Diaspora network or Website; since the Diaspora code is freely available online, anyone with a server handy can host a Diaspora server that you can join. The software is still in development, but an alpha version is already available and several Diaspora
servers
are already operational. These servers (known as "pods") allow registered users to store data (like mail and photos) and maintain their own personal profile. Every pod is different: Some are invite-only, some have space limits, and some are more secure than others. You can even host your own Diaspora pod to retain absolute control of your online identity. It's like living in your own private Idaho (on the Internet.)
Sound lonely? Invite friends and family to register a Diaspora account on whichever pod suits their fancy; you can then share as much or as little as you like with each other, even if everyone is on different pods. If Facebook is like one big desert island, Diaspora is an entire archipelago, a chain of private islands linked with bridges built and controlled by the users. If you're concerned about trusting Facebook with your private data, an open-source alternative like Diaspora might be worth a look.
Alex Wawro has a complicated relationship with Facebook. Find him on Twitter
@awawro
or on
Diaspora
(awawro@diasp.org.)