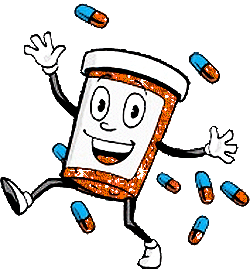 America's addiction to dangerous SSRI's hits crisis levels
Infowars.com
Monday, April 9, 2012
The alleged shooting of a police officer in Austin by a man taking the anti-anxiety drug Xanax is just one of a plethora of recent incidents fueled by anti-depressant pharmaceuticals – an epidemic of mania that has swept the country.
Mary O'Dell, the mother of 24-year-old Brandon Montgomery Daniel told the Associated Press that her son's role in the fatal shooting of Austin Senior Police Officer Jaime Padron was fueled by alcohol and psychotropic drugs.
O'Dell added that Daniel was not even aware of what had taken place because "he was under the influence of tequila and Xanax."
This is just one of a spate of shocking incidents over recent years in which Xanax and other similar pharmaceuticals have played a central role in triggering random violence and mania.
The two recent incidents involving airline officials suffering mental breakdowns during flights were also caused by anti-depressant drugs.
JetBlue pilot Clayton Osbon, who went crazy and began screaming about Al-Qaeda and threatening to take the plane down during an incident last month was described as a "consummate professional" by colleagues. However, experts looking into the case confirm that "several pharmacological issues under scrutiny within the airline industry are likely to get attention in the Osbon case, including the side effects of medicines that pilots sometimes use to fight fatigue and depression."
Eric Harris, the triggerman in the Columbine school shootings, killed his fellow students and took his own life while taking Luvox.

Thirteen year-old Chris Fetters killed his favorite aunt while taking Prozac.

Twelve year-old Christopher Pittman murdered both his grandparents while taking Zoloft.

Thirteen year-old Mathew Miller hung himself in his bedroom closet after taking Zoloft for 6 days.

Fifteen year-old Jarred Viktor stabbed his grandmother 61 times after 5 days on Paxil.

Fifteen year old Kip Kinkel (Prozac and RITALIN) shot his parents while they slept then went to school and opened fire killing 2 classmates and injuring 22 shortly after beginning Prozac treatment.

Luke Woodham aged 16 (Prozac) killed his mother and then killed two students, wounding six others.
Boy in Pocatello, ID (Zoloft) in 1998 who in seizure activity from Zoloft had a stand off at the school.
Michael Carneal (Ritalin) a 14-year-old opened fire on students at a high school prayer meeting in West Paducah, Kentucky. Three teenagers were killed, five others were wounded, one of whom was paralyzed.
Young man in Huntsville, Alabama (Ritalin) went psychotic chopping up his parents with an ax and also killing one sibling and almost murdering another.
Andrew Golden, aged 11, (Ritalin) and Mitchell Johnson, aged 14, (Ritalin) shot 15 people killing four students, one teacher, and wounding 10 others.
TJ Solomon, aged 15, (Ritalin) high school student in Conyers, Georgia opened fire on and wounded six of his class mates.
Rod Mathews, aged 14, (Ritalin) beat a classmate to death with a bat.
James Wilson, aged 19, (Psychiatric Drugs – various) Breenwood, South Carolina, took a .22 caliber revolver into an elementary school killing two young girls, and wounding seven other children and two teachers.
Elizabeth Bush aged 13 (Paxil) was responsible for a school shooting in Pennsylvania
Jason Hoffman (Effexor and Celexa) – school shooting in El Cajon, California
Another boy in Pocatello, ID (Zoloft) had a stand off at the school.
Jarred Viktor aged 15 (Paxil), after five days on Paxil he stabbed his grandmother 61 times.
Chris Shanahan aged 15 (Paxil) in Rigby, ID who out of the blue killed a woman.
produced a study
based on FDA figures that illustrated how the antidepressants Pristiq (desvenlafaxine), Paxil (paroxetine) and Prozac (fluoxetine), all appear in the list of the top ten violence-causing drugs.
America's addiction to psychotropic drugs is out of control and growing every year.
Lawyers are also currently investigating whether Staff Sergeant Robert Bales, accused of massacring 17 Afghan civilians, was influenced by a cocktail of antidepressant drugs that triggered a psychotic episode.
It's abundantly clear that the epidemic of craziness and violence we are witnessing both in America and by U.S. troops abroad is being fueled by dangerous psychotropic drugs, subscription pharmaceuticals that are causing normally sane people to fly off the hook and act out with insane acts of mania or violence.
Such shocking incidents will continue to happen at an ever-increasing rate until there is a massive backlash against the pharmaceutical industry and establishment doctors for pushing drugs that are directly causing violence, lunacy and bloodshed.
*********************