They traveled from Europe to "liberate" a country foreign to them? It was by definition an "invasion". The same con artists who sold us this invasion and occupation of Palestine as "liberation"
also sold us the Jewish holocaust script. No "outsiders" are allowed to investigate it. One has to say hmm...(follow the money)
1948 Nakba
Kamel Shraydeh, a 76-year-old retired teacher living in Bourj el-Barajneh, was born in the Palestinian village of Safsaf, a few kilometres from the northern city of Safed in present-day Israel. In October 1948, dozens of villagers, including ten members of the Shraydeh family, were massacred by Israeli soldiers.
Shraydeh was 13 years old at the time, but he was tall and looked older than his age. Israeli soldiers, he said, were seizing, and in some cases executing, boys as young as 14 and 15. His parents, fearing for his life, cut off the bottom of his pants so he would appear shorter and younger.
"My mother told me to carry my younger brother on my soldiers. Before I knew it, an Israeli soldier pointed a rifle to my chest. We managed to run away and hide among the olive branches. But soon after, they moved us to another house in the north. Right next to it, there was a well that that the townspeople used," he said.
"We climbed up a hill and we could see all those who were killed. My brother, who was three and a half years old, started pointing at the bodies and said 'That's our neighbour. That's our friend.' I told him to be quiet so the soldiers would not shoot us."
Shraydeh eventually escaped to Lebanon, thinking he would be there for a few short days before returning to Safsaf. But that day never came, and he has spent his entire life since in refugee camps in Tripoli and Beirut.
1967 Nakba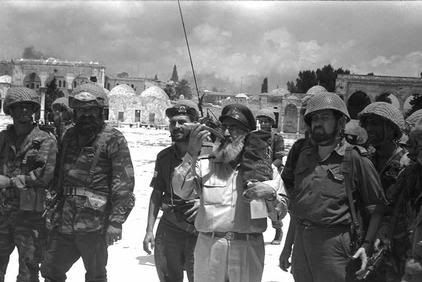 General Shlomo Goren, military chaplain, was one of the first Israelis to reach the Temple Mount in 1967. Two years later, he became Israel's chief rabbi (1969–79). On June 7th he blew the shofar and prayed intensely. He also suggested to Major General Uzi Narkiss that the latter could go down in history by taking a hundred kilos of explosive and destroying the Muslim shrine, the Dome of the Rock.
This was revealed thirty years later when Narkiss was dying and told a newspaper reporter the story. The power of identity and the power of the historic moment possessed Goren. He said to Narkiss: "You don't grasp the immense meaning of this. This is an opportunity that can be exploited now, this minute. Tomorrow it will be impossible."
"Ur" is an Aramaic word for city. "Shalim" means peace. Salam in Arabic. "Ur-Shalim" is then the "City of Peace" (Madinat al Salam). It is the ancient name of Jerusalem or Al-Quds.
UrShalim will always be Al Quds / The Holy.