When a recent drone flies into Israeli airspace Defense Minister Ehud Barak praised Chief of General Staff Lt. Gen. Benny Gantz and IAF Commander Maj. Gen. Amir Eshel for what he called the "swift and precise" tracking and shooting down of the UAV. "We take this attempt to violate Israel's air space very seriously and are weighing our options for a response."
Israel has committed multiple and severe violations of Lebanese sovereignty, including an invasion covering most of the country in 1982, followed by 18 years of occupation. In 1998 mock air raids over Beirut by low-flying supersonic jets created sonic booms.
[4]
A British reporter living in Nazareth reported that over-flights of the border were an almost daily between the end of the occupation and the beginning of the war, and resumed almost immediately afterwards. The booms are terrifying.
[5]
Sonic booms as a weapon
When low-level supersonic aircraft were causing booms over Gaza (mostly late at night or early in the morning) an Israeli newspaper reported that the booms cause nightmares and bed-wetting in children, break windows and cause panic attacks in pregnant women. They say that "the world's best air force is amusing itself by creating fear in a helpless and terrified civilian population".
[6]
Israeli warplanes
Fri Oct 19, 2012 4:45AM GMT
Israeli military aircraft have entered Lebanon's airspace and flown over areas of the country in blatant violation of a UN Security Council resolution.
T
wo Israeli warplanes crossed into the Lebanese airspace
over the border village of Kfar Kila, located about 96 kilometers (59 miles) south of the capital Beirut, at 10:50 p.m. local time (1105 GMT) on Thursday, according to a statement issued by the Lebanese military.
The aircraft flew over several areas of Lebanon before they left the airspace at 12:25 p.m. local time (0925 GMT) while flying over the southern sector of the country.
On Wednesday, an Israeli unmanned aerial vehicle also violated Lebanon's airspace over the southern village of al-Naqoura, which is situated about 91 kilometers (57 miles) south of Beirut, at 10:00 p.m. local time (1900 GMT) and made surveillance flights over several areas in southern Lebanon.
The remote-controlled aircraft left the airspace at 6:15 a.m. local time (0315 GMT) on Thursday while flying over al-Naqoura village.
Moreover, another Israeli drone entered Lebanon's airspace over the southern village of Rmeish at 9:00 a.m. local time (0600 GMT) on Wednesday and flew over several areas in southern Lebanon.
The aircraft left Lebanese airspace at 10:00 p.m. local time (1900 GMT) while flying over Rmeish village.
The Tel Aviv regime violates Lebanon's airspace on an almost daily basis, claiming the flights serve surveillance purposes.
Lebanon's government, the Hezbollah resistance movement, and the UN Interim Force in Lebanon, known as UNIFIL, have repeatedly condemned the overflights, saying they are in clear violation of UN Resolution 1701 and the country's sovereignty.
UN Security Council Resolution 1701, which brokered a ceasefire in the war of aggression Israel launched against Lebanon in 2006, calls on Israel to respect Lebanon's sovereignty and territorial integrity.
In 2009, Lebanon filed a complaint with the United Nations, presenting over 7,000 documents pertaining to Israeli violations of Lebanese territory.
*******
July 12, portrayed in U.S. media as beginning with an attack out of the blue by Hezbollah. While Hezbollah's capture of two Israeli soldiers may have reignited the smoldering conflict, the Israeli air campaign that followed was not a spontaneous reaction to aggression but a well-planned operation that was years in the making.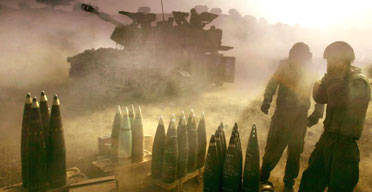 Israel terrorist army fires heavy artillery into southern Lebanon 2006
"Of all of Israel's wars since 1948, this was the one for which Israel was most prepared," Gerald Steinberg, a political science professor at Israel's Bar-Ilan University, told the San Francisco Chronicle (7/21/05). "By 2004, the military campaign scheduled to last about three weeks that we're seeing now had already been blocked out and, in the last year or two, it's been simulated and rehearsed across the board."
Mohammed Akkash's voice cracked as he listed the names of his 10 grandchildren who were killed just hours earlier in an Israeli air raid on his son's home.