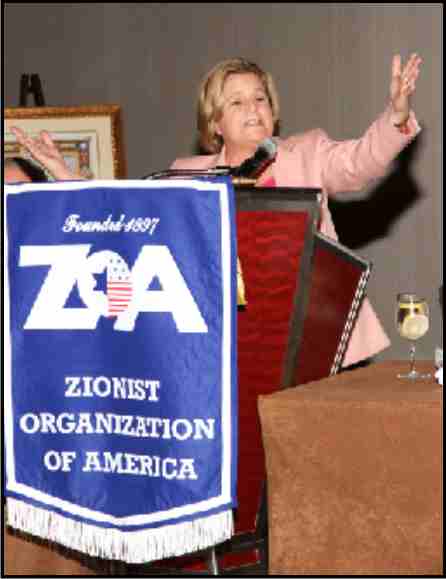 U.S. House of

Representatives 2011:
"The strong ties between the Latino and [Zionist] Jewish communities make this Caucus a perfect forum to address a variety of policy issues such as religious freedom, anti-Semitism, and the growing influence of Iran and its proxies in the Western Hemisphere," said Rep. Ros-Lehtinen, chair of the House Committee on Foreign Affairs.
Million dollar Ford Foundation and American Zionist Jewish Committee plan to coerce Latino leaders into promoting Israel:
"Ford Foundation Extends Grant to AJC for Latino-[Zionist]Jewish Relations." American [Zionist] Jewish Committee (AJC) Press Release 1/24/13.
The
American [Zionist] Jewish Committee
has announced a two-year grant of $1 million from the
Ford Foundation
in support of a program to advance Latino-Jewish relations.
The grant will support expansion of the
Bridging America Project
, which aims to foster cross-cultural understanding, collaborative relations, and joint advocacy and coalition building among [Zionist] Jewish and Latino leaders, with a focus on advancing comprehensive immigration reform. The Ford Foundation has awarded annual grants of $500,000 to the project over the past three years.
Planned programs include joint advocacy workshops in Dallas, New York, and Washington, D.C.; a "national conversation" among Latino and [Zionist] Jewish leaders about issues of mutual concern; conferences in Houston, Miami, and New Jersey on the economic benefits of immigration; and a partnership with the
National Museum of Mexican Art
in Chicago, which will present a special exhibition of pre-Columbian art from the
Israel Museum
in Jerusalem.
"The Ford Foundation's generous support is affirmation of the capacity and progress of AJC's Bridging America Project, and will further boost its reach and visibility," said Ann Schaffer, director of the organization's
Arthur and Rochelle Belfer Center for American Pluralism
.