Dual-citizen nominee's lifetime benefit to Israel comes at a heavy cost to America
Fischer not only been an ardent supporter of Israel, his professional efforts began when he took sabbatical leave to Israel in 1972 and 1976-1977. He was a visiting scholar at the Bank of Israel in 1980.
More importantly for Israel, Stanley Fischer won an appointment to the Reagan administration's U.S.-Israel Joint Economic Discussion Group that dealt Israel's 1984-1985 economic crisis.
In October of 1984, Israeli Prime Minister Shimon Peres arrived in Washington asking an initially reluctant Reagan Administration for an additional $1.5 billion in U.S. emergency funding—over and above the already-promised aid $5.6 billion aid package.
The help amounted to U.S. taxpayers funding each Israeli citizen $1,650. Another key component of the plan called for a largely unilateral lowering of U.S. tariffs and trade barriers to Israel, a program initially called "
Duty Free Treatment for U.S. Imports from Israel" but
later repackaged and sold as America's first "free trade" agreement.
Over time the FTA reversed a previously balanced U.S.-Israel trading relationship for one that has produced a
cumulative deficit to the U.S. that passed $100 billion in 2013
. Seventy American industry groups opposed to the give-away in 1984 were disenfranchised when Israeli Economics Minister Dan Halpern and AIPAC illegally obtained a classified compendium of their industry, market and trade secrets to use against them in lobbying and public relations. An FBI espionage and theft of government property investigation was quashed before it could narrow in on those inside the U.S. government who
delivered the secrets to Halpern
.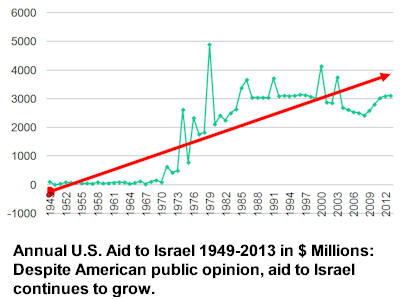 READ MORE AT WEBSITE