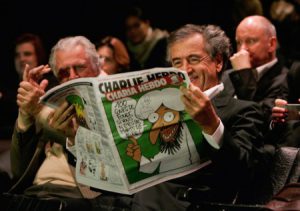 Bernard-Henri Lévy fake intellectual
Tariq Ali: Bernard-Henri Lévy Indicted!
On January 28, activists belonging to the PIR (Parti des Indigènes de la République) are organizing a mock trial in the old PCF/CGT stronghold of Saint Denis. Norman Finkelstein and myself are the only non-French who are giving evidence against BHL.
It should be good fun. Nobody is quite sure whether Tintin will be in Paris or entertaining the King in his huge villa in Morocco … he should beware the Maghreb now. The times they are a-changing.
"Order for the indictment of Bernard-Henri Lévy before the Assize Court, and for his arrest:
We have determined that whereas investigation has established the following facts concerning the accused:
– His unrelenting promotion of imperialism and Zionism,
– His intellectual fakery, symptom of philosophical nullity amid the accumulation of capital and power,
– His leveling of false accusations and calumnies against Iran,
– His warmongering and advocacy of "humanitarian imperialism,"
– His aiding in the creation and promotion of SOS Racisme to smother autonomous immigration movements,
– His dissemination of false news likely to sow social and eligious discord between Christians and Muslims.
For these reasons, we rule that there is sufficient evidence against Bernard-Henri Lévy that he committed such acts, punishable under the Criminal Code, in regard to Articles 175, 176, 181, 183 and 184. We order the indictment of Bernard-Henri Lévy, to be lodged at the Court of Assizes of the department of Seine- Saint-Denis to be tried according to law."
Executed in Chambers, December 18, 2010."