Beleaguered Cristina Fernández de Kirchner says she is the target of a conspiracy between US hedge funds, Jewish groups and associates of Alberto Nisman.
[she's right on the money]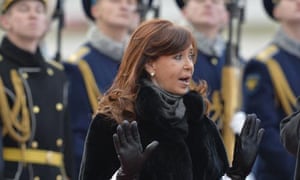 Uki Goñi in Buenos Aires and Jonathan Watts
Tuesday 21 April 2015 16.29 BST
Argentina's President Cristina Fernández de Kirchner has gone on the offensive against her critics by claiming she is the target of a conspiracy between US "vulture funds," Jewish community groups and the prosecutor Alberto Nisman, who died in suspicious circumstances earlier this year.
In a lengthy column published on her official website, Fernández alleges a close connection between pro-Israeli groups and individuals who, she says, were plotting to undermine her efforts to secure closer ties to Iran.
"We are facing a global modus operandi, which not only severely injures national sovereignty, but also generates international political operations of any type, shape and colour," she writes in a post entitled "Everything has to do with everything."
Fernández said she saw parallels between these activities and the Israeli government's support for US members of Congress who aimed to block the recent US-Iran nuclear deal. In both cases, she said lobbyists and covert agencies organised financial attacks and media smear operations designed to destabilised governments.
Her comments follow massive street demonstrations over the death of Nisman, who was found with a bullet in his brain the day before he was due to allege in Congress that the president was covering up alleged Iranian involvement in the 1994 bombing of the Amia Jewish community centre in Buenos Aires because she wanted a trade deal with Tehran.
READ MORE