None of these laws affect your right to criticize Israel, to boycott Israel, or to advocate for BDS.
While these laws are aimed at punishing BDS, they will likely have a limited impact, and BDS advocates can use these laws to shed more light on Palestinian issues and the purpose and goals of BDS. http://palestinelegal.org/legislation/

The Boycott, Divestment, Sanctions (BDS) movement works to end international support for Israel's oppression of Palestinians and pressure Israel to comply with international law.
The anti-boycott bill is framed as a hate crime against Jews. ? How to make sense of it: List of US governors Israel owns so far

AB 2844 (Bloom) Sent to the Governor with Bipartisan Support from the Legislature
Assemblymember Marc Levine (D-Marin County), vice chair of the Legislative Jewish Caucus, released the following statement on this week's passage of AB 2844 (Bloom). This bill seeks to prevent discriminatory boycotts of Israel such as the Boycott, Divestment, Sanctions (BDS) movement. In doing so, AB 2844 reinforces the Memorandum of Understanding (MOU) signed by Governor Jerry Brown and Prime Minister Natanyahu in 2014.
What does the Polish-Israel mob boss have to do with us Californians and why is our governor standing with him?
"The BDS movement is rooted in anti-Semitism and this legislation assures that such discrimination will not be rewarded with California tax dollars. California is not a discriminatory state and we are proud of our relationship with Israel. That relationship has been formalized by an MOU.
Under this MOU, Israeli engineers and scientists can help California solve some of our most pressing problems, especially in how we address California's historic drought," said Assemblymember Levine. "It only makes sense that California should expect our vendors to honor that formal relationship and not discriminate against Israel."
AB 2844 provides that if a business chooses to discriminate through a boycott of Israel, California will not contract with that company as a state vendor. Under the MOU, California is collaborating with Israel on a comprehensive approach toward developing a sustainable water future in California. Israel also contributes expertise in environmental technology, education, health, agriculture, sustainable energy and clean technologies.
Both houses of California's legislature have now approved a bill to ban state government agencies from awarding contracts to companies that choose to join the international boycott against Israel's continued occupation of Palestine.
The bill, AB 2844, if passed, would be a serious attack on the worldwide Boycott, Divestment and Sanctions movement against Israeli apartheid and its treatment of Palestinians.
Companies who choose to boycott Israel, would be accused of being in violation of the state's civil rights law and would not be permitted to accept a California government contract of $US100,000 or more.
The bill, which has eight different amendments, was eventually passed 60 to 0 in the assembly, and will now go to Governor Jerry Brown for has to decide whether to veto or sign the bill into law by the end of September.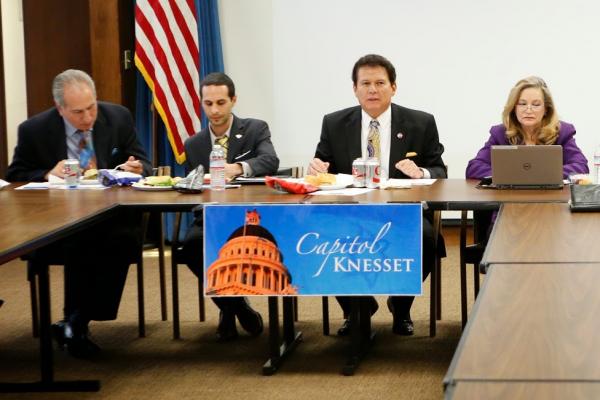 BDS and civil rights advocates have urged Brown to veto the bill, while supporters of the bill have made much of the trade ties between the U.S. and Israel, as well as Israel's positive treatment of LGBTQ persons as a reason for supporting AB 2844 – ignoring Israel's long history of oppressing and collectively punishing Palestinians.
"AB 2844 is both an attack on the constitutional rights of Californians and a waste of taxpayer money, estimated to cost upwards of $140 million annually, according to the California Department of Finance, which opposes it," read a statement from the Coalition to Stop AB 2844, which includes over 100 civil society organizations.
"Government should not be in the business of punishing supporters of BDS, whether corporations, universities, organizations or individuals, by denying them contracts," said Nasser Barghouti from the U.S. Campaign to End The Israeli Occupation.
A number of other states, including New York and New Jersey, have passed similar laws to outlaw the boycott of Israel.
Related articles